Embraco Appliance Repair Parts

#1 Source For Guaranteed Parts for Embraco Condensers, Sealed Units, Heat Exhangers, Receiver Tanks & Refrigeration Compressors
1 - Find your model number below.
2 - Click on your model number. (A parts diagram will open up)
3 - Identify the part and part number and use the search field above to locate it.
If you can't find your part or model number we'd be pleased to assist you
Or
Call us toll-free at:
1-855-472-4443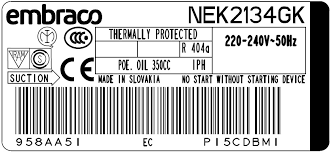 Condensing Units:
The Embraco Condensing Units are available for a broad spectrum of applications, ranging from 1/6 to 5HP in low, medium and high temperature evaporation application.
Compressors:
Our compressors were developed to address the increasing demand for lower energy consumption and lower noise levels of residential and commercial refrigeration equipment