Faber Appliance Repair Parts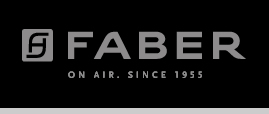 #1 Source For Guaranteed Parts for Faber Range Hoods
1 - Find your model number below.
2 - Click on your model number. (A parts diagram will open up)
3 - Identify the part and part number and use the search field above to locate it.
If you can't find your part or model number we'd be pleased to assist you
*Please note that replacement Faber parts purchased from us are not eligible for return.Parts breakdowns are for reference only. Please call with serial number to ensure correct part choice.*
Or
Call us toll-free at:
1-855-472-4443
HOW TO FIND MODEL OR SERIAL NUMBER
You can find the model and FB serial number of your hood by looking for the white UL label (See sample label below). It is located on the inside of the hood underneath the grease filters. Be sure your range hood is turned off before locating the Model & Serial Number. To use the table, locate your model number and then look for the first digit in your serial number which is listed below the hood name in the Hood Model part of the table.
Example
Model Number – INLT28SSV
Hood Model – Inca In-light SSV
(first digit in serial number is 8, 9 or A)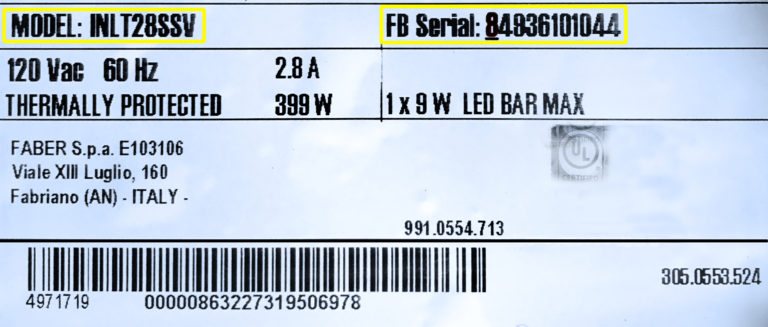 Italian Range Hoods:
A streamlined shape makes their range hoods an updated alternative in canopy island and wall range hoods.
-LED digital display with touch controls
-10 minute intensive speed
-30 minute delayed shut down mode
-Silent Kit sound-proofing
-Convertible to a ductless range hood
-Easy cube motor access
-Modified pro depth